windream Genky
The ultimate software platform for all documents, processes and applications
Today, modern application programs are so complex that no user can fully master their functional scope. Studies show that users only use twenty percent of the entire range of functions and commands of an application .
This applies not only to specialist applications, but also to the standard Office programs such as Microsoft Word and Excel. In addition to these standard applications, a large number of other, specialized programs such as workflow, ERP, ECM or CRM systems are also used. The entire range of functions is simply no longer controllable .
So what if you had a system that could overcome exactly this obstacle?
windream Genky - an uncompromising problem solver
windream Genky follows a consistently solution-oriented approach and is completely tailored to the special tasks that you as a user in a company have to fulfill.
This includes classic document management with a powerful search module as well as the mapping of file structures with different contents or workflows that are linked to processes. Due to this capability, windream Genky can be used in different companies and departments - for example in the industry, in the service sector, in accounting, in human resources or in production .
One of the biggest advantages of windream Genky is that the functions and respective user interfaces are always task-oriented. This means that windream Genky only provides those functions that you really need to complete a task, depending on the context. Not more, but also not less.
windream Genky offers you an architecture that enables you to develop your own Genky solutions, which can then be integrated into windream Genky your own Genky solutions.
What characterizes windream Genky?
Simple and intuitive operation
Link documents and content with processes and specialized applications .
User interface tailored to individual requirements, flexibly configurable and precisely adapted to the operating concepts of the end devices.
Exact provision of all data and documents required for the current taks
Tailor-made mapping.
windream Genky accompanies the "Mobile Worker" in his daily work, whether in the office, at the customer's, on the way or at home .
Clear design of the work surfaces of the software
Inspiring User Experience
windream Genky solves the problem of overloading functions! This makes windream Genky unique and a forward-looking, uncompromising solution-oriented tool for the seamless integration of classical document management, digital business processes and specialized applications - without superfluous "command ballast.
It couldn't be more dynamic
While with other systems it is necessary to develop a new application or solution for the respective end device, this hurdle disappears with windream Genky as if by magic. The operating concepts of iOS and Android are taken into account. It is not simply a web application that is executed on the tablet or mobile phone, as is often the case with other systems .
windream Genky works independently from a certain platform or a terminal, and the access to documents and information can be done via a smartphone, a tablet, a notebook or a classic desktop PC. In order to ensure this multi-platform capability, windream Genky supports all standard operating systems such as Android, iOS, Windows, Linux derivatives and MacOS on the client side. For devices with Android and iOS there are dedicated apps in Google Play and in the Apple App Store.
Due to its enormous flexibility, windream Genky does not provide a rigid "app" on the smartphone, because you decide yourself which information you want to display or edit in a specific situation on the device. The entire windream Genky system is flexible and individually manageable. It combines documents, processes and contents or application scenarios under one common user interface.
windream Genky overcomes system boundaries
As an innovative software platform, windream Genky exactly meets the demands that you as a user have towards an IT system. In concrete terms this means:
You become independent of rigid, permanently installed PC workstations and expand your working horizon with almost limitless mobility .
Make all your business knowledge available anywhere, anytime.
With windream Genky you can combine and unite various application cases and scenarios as well as views on processes, documents and contents under one interface in such a way that you can carry out your activities optimally.
Would you like to learn more?
We will be happy to advise you personally on our digitization solutions!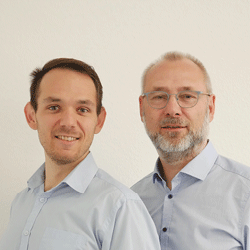 Do you have any questions about our solutions?
windream Salesteam
vertrieb@windream.com