EGW-Heimstätte
Digital customer and object files at EGW-Heimstätte (EGW Smallholding)
"Our filing cabinets looks all nice and empty, now that we got rid of all these papers!" Attila Magyar, executive director of EGW-Heimstätte (EGW Smallholding) in Vienna, is happy to state. "Every time our tenants had questions regarding their contracts, we had to go through the trouble of searching through our hardcopy files. Only then could we answer the question." This has changed radically, because since 2010, EGW employees have been using the windream ECM system for managing all business-relevant documents required for managing their tenants' files.
Quick and efficient answers to customer requests
Convenient integration of e-mail correspondences into customer and object data
Significant time-savings due to digitalization of files
Interface to the branch-specific application JET DOMIZIL
Quick research operations via meta-data in barcodes and via fulltext searches
Convenient transport of digital documents on portable computers
Would you like to learn more?
We will be happy to advise you personally on our digitization solutions!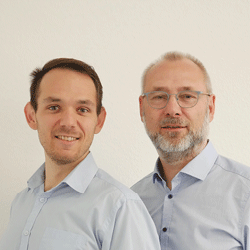 Do you have any questions about our solutions?
windream Salesteam
sales@windream.com
windream News
Stay up-to-date and subscribe to our windream newsletter now.