Seventh windreamPartnerCON inaugurates new video studio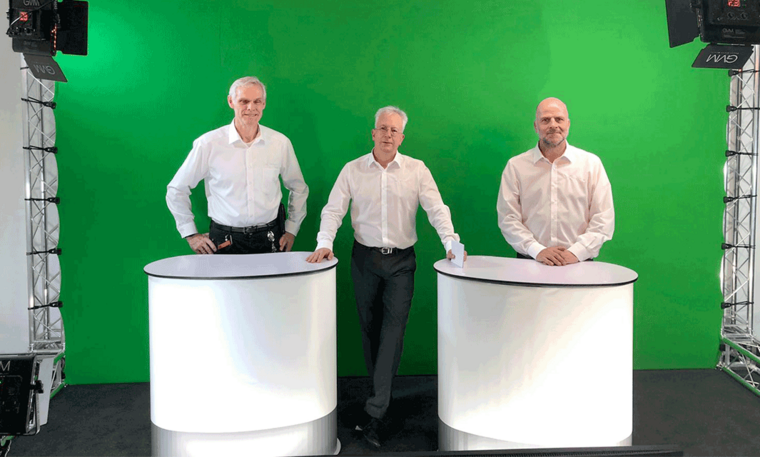 Actually, we had been looking forward to meeting our partners for two days in a hip top location: the Scandic Hotel on Frankfurt's Museumsufer, with a view of the Frankfurt skyline, followed by a boat trip on the Main River. That was the plan. But this year everything is different. We decided to set up an online format, which made the event no less successful.
We are happy to have over 200 participants who followed the presentations online and thus were able to gain a first impression of the possibilities of our new video room equipped with state-of-the-art technology.
Besides news from partner management, sales and marketing, the latest product news concerning windream Imaging 7 and windream CAD-Indexer were presented. The topics cloud, ECM-integration for MS Teams and contract management with windream Dynamic Workspace were very popular.
Prepared for the future with windream
A lot has been initiated: First of all, the windream 7 release with the top feature windream Dynamic Workspace, which has been available since July. Furthermore, the new legal opinion was presented, which attests windream 7 the full compliance and includes the recertification of the new windream version for the Swiss GeBÜV.
Further on, the focus was on SAP certifications for windream ArcLink 7 and windream Link 7 for SAP ILM. On September 15, Roger David, managing director of windream GmbH, and Werner Schlieper, head of product management, presented a lot of further exciting points in the new video room. The core of Roadmap 202X will be the further development of windream Dynamic Workspace, the windream Cloud and the integration of windream BPM. You can look forward to future-oriented developments which set new standards in ECM.
All in all, an "all around successful event", "informative, innovative and professionally executed", according to some voices from the partners. They can already look forward to the next windreamPartnerCON in two years, then hopefully live in Frankfurt.