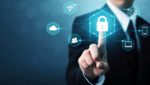 Compliance requirements are constantly increasing
The windream ECM system not only supports users in fulfilling compliance requirements, but even goes beyond it by far exceeding the requirements with its possibilities.
In this context, digital transformation with windream also means realizing security, data availability, transparency, data protection and other legal aspects in such a way that users are optimally supported in all areas of legal regulations.
This ultimately leads to a significant increase in customer confidence in the manufacturer's products and thus to a trusting cooperation with the manufacturer.