Donation action: The hospice St. Hildegard in Bochum
A Very Special Christmas Campaign
At the end of 2019 we have decided to launch a very special Christmas promotion. We would like to support non-profit organizations and institutions to which our employees have a personal connection with with a donation of 1,000 euros each. Our employees visited the facilities and ceremonially handed over the donation cheque on behalf of our company.
The St. Hildegard Hospice is located in the immediate vicinity of our company. Founded in 1995 as a charitable institution, the employees of the hospice look after, care for and accompany seriously ill people whose lives are coming to an end in the foreseeable future. The hospice is located in a beautiful old villa in the Ehrenfeld district of Bochum.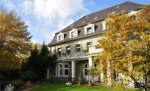 This willingness to support the house financially and on a voluntary basis is still an indispensable part of the hospice work today. Since 1999, the hospice has been a non-profit limited company. The work in the hospice St. Hildegard has changed again and again until today and is constantly being further developed. Especially the palliative treatment of the patients is a fundamental part of the hospice work.