4th race weekend: Lausitzring
ADAC GT Masters: points and fastest Audi at the Lausitzring
The start went well and without any problems. Shortly after the driver change, there was initially a safety car phase as a result of an accident, which brought the entire field together. A short time later, the race was interrupted because the circuit was dirtier than expected. Daniel Keilwitz used the restart not only to keep up with the competitors in front, but also to make up a few positions. In the end, this meant a conciliatory 12th place.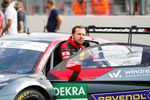 The start on Sunday went very well and the team was able to move up position by position as the race progressed. When the red flag was waved again shortly before the end of the race because one of the race cars had burst into flames next to the track, the number three R8 was on the verge of a top 10 finish. With less than 10 minutes to go, the race was then reopened and the hunt for the fastest time restarted. Sebastian did everything right at the restart and ultimately achieved a very good result with 10th place and six important points for the team around Frank Aust.
The next race weekend will take place on October 1-3 at the Sachsenring.
Driver Sebastian Asch from Aust Motorsport had a very special meeting: Father and son Asch were in action at the ADAC GT Masters at the Lausitzring: Sebastian together Daniel Keilwitz in the Aust Motorsport Audi, Roland in his 1993 Mercedes 190E Class 1 in the Touring Car Classics.

Stay up-to-date: Receive news about campaigns and events as well as interesting facts about digital document and process management in our monthly newsletter.
Subscribe now